Gamblin Etching Inks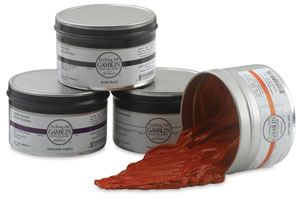 Gamblin Etching Inks are made with the same respect for traditional materials and focus on permanence that have made Gamblin's Artist's Oil Colours the choice of many of America's finest painters.
Gamblin Etching Inks have a following among discerning printmakers because of their high pigment load, excellent working properties, and incredible sensitivity to the printmaker's marks. All of Gamblin's Etching Inks are handcrafted in small batches at Gamblin's factory in Portland, Oregon.
White Gamblin Ink 300ml Tub

WAS $29.60 NOW $23.70

$23.70

---




Transparent Base Gamblin Ink 300ml Tub

$23.70

---




Hansa Yellow Light Gamblin Ink 300ml Tub

$36.00

---




Napthol Red Gamblin Ink 300ml Tub

$28.95

---




Quinacridone Red Gamblin Ink 300ml Tub

$36.00

---




Dioxazine Purple Gamblin Ink 300ml Tub

$28.95

---




Ultramarine Blue Gamblin Ink 300ml Tub

$28.95

---




Prussian Blue Gamblin Ink 300ml Tub

$28.95

---




Phthalo Green Gamblin Ink 300ml Tub

$28.95

---




Yellow Ochre Gamblin Ink 300ml Tub

$23.70

---




Sepia Gamblin Ink 300ml Tub

$28.95

---




Stiff Black Gamblin Ink 300ml Tub Gamblin Ink 300m

$23.70

---




Portland Black Gamblin Ink 300ml Tub

$23.70

---




Cool Black Gamblin Ink 300ml Tub

$23.70

---




Carbon Black Gamblin Ink 300ml Tub

$23.70

---




Bone Black Gamblin Ink 300ml Tub

$23.70

---




Graphite Gamblin Ink 300ml Tub

$28.95

---