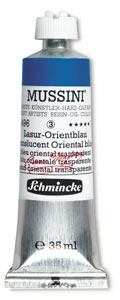 Schmincke Mussini Oils
Schmincke has been producing artists' colors since 1881. Mussini resin-oil colors are truly the pinnacle of their paint making experience. Mussini offers brilliance and purity with the highest lightfastness.
Schmincke oils are stored for three months before the tubes are filled. This allows each pigment's oil absorption rate (the amount of oil needed to bind the pigment) to be optimized. Varying amounts of damar resin are then added to ensure that all colors dry at the same time. This guarantees tension-free and durable color layers.
Mussini offers an Old Masters palette that dates back over 100 years: an extensive range of transparent and semi-transparent glaze pigments. Schmincke Mussini Oil Colors are available in 1.2 oz (35 ml) tubes.
35ml & 150ml
Zinc White Mussini Oil 35ml & 150ml

Pure white, semi-opaque in relation to titanium white and bluer. Ideal for lightening multicoloured shades.

$0

---




Titanium Opaque White Mussini Oil 35ml & 150ml

Pure, brilliant white. Possesses the highest opacity and tinting power of all white colours.

$0

---




Translucent White Mussini Oil 35ml

Titanium white with ultrafine primary grain, providing a semi- transparent effect. Forms fine white haze effects which display a milky blue shimmer in glancing light. An ideal colour to create atmospheric perspectives.

$45.70

---




Brilliant Yellow Mussini Oil 35ml & 150ml

$0

---




Medieval Yellow Mussini Oil 35ml

$20.90

---




Yellowish Green Ural Mussini Oil 35ml

$26.50

---




Lemon Yellow Mussini Oil 35ml & 150ml

$0

---




Vanadium Yellow Light Mussini Oil 35ml

$55.00

---




Cadmium Yellow Light Mussini Oil 35ml

$45.70

---




Cadmium Yellow Tone Mussini Oil 35ml

$26.50

---




Vanadium Yellow Deep Mussini Oil 35ml

$45.70

---




Cadmium Yellow Medium Mussini Oil 35ml

$45.70

---




Translucent Yellow Mussini Oil 35ml

$20.90

---




Indian Yellow Mussini Oil 35ml & 150ml

$0

---




Cadmium Yellow Deep Mussini Oil 35ml

$45.70

---




Cadmium Orange Mussini Oil 35ml

$55.00

---




Chrome Orange Mussini Oil 35ml

$26.50

---




Translucent Orange Mussini Oil 35ml & 150ml

$0

---




Brilliant Scarlet Mussini Oil 35ml

$26.50

---




Cadmium Red Light Mussini Oil 35ml

$55.00

---




Vermillion Red Tone Mussini Oil 35ml & 150ml

$0

---




Cadmium Red Medium Mussini Oil 35ml

$59.80

---




Cadmium Red Tone Mussini Oil 35ml

$55.00

---




Cadmium Red Deep Mussini Oil 35ml

$55.00

---




Madder Root Tone Mussini Oil 35ml

$20.90

---




Florentine Red Mussini Oil 35ml

$20.90

---




Translucent Red Oxide Mussini Oil 35ml

$20.90

---




Madder Lake Brilliant Mussini Oil 35ml

$26.50

---




Alizarin Madder Lake Mussini Oil 35ml & 150ml

$0

---




Madder Lake Dark Mussini Oil 35ml

$26.50

---




Carmine Mussini Oil 35ml

$26.50

---




Translucent Magenta Mussini Oil 35ml & 150ml

$0

---




Caesar Purple Mussini Oil 35ml

$20.90

---




Cobalt Violet Mussini Oil 35ml

$93.00

---




Translucent Violet Mussini Oil 35ml

$20.90

---




Byzantine Blue Mussini Oil 35ml

$20.90

---




Indigo Tone Mussini Oil 35ml

$13.10

---




Indigo Mussini Oil 35ml & 150ml

$0

---




Delft Blue Mussini Oil 35ml

$20.90

---




Ultramarine Blue Deep Mussini Oil 35ml & 150ml




$0

---




Ultramarine Blue Light Mussini Oil 35ml & 150ml

$0

---




Cobalt Blue Deep Mussini Oil 35ml




$62.90

---




Cobalt Blue Light Mussini Oil 35ml

$45.70

---




Cobalt Blue Tone Mussini Oil 35ml

$13.10

---




Translucent Oriental Blue Mussini Oil 35ml

$20.90

---




Prussian/Paris Blue Mussini Oil 35ml & 150ml

$0

---




Royal Blue Light Mussini Oil 35ml & 150ml

$0

---




Cobalt Cerulean Blue Mussini Oil 35ml

$93.00

---




Translucent Cyan Mussini Oil 35ml

$20.90

---




Manganese Cerulean Blue Mussini Oil 35ml




$30.60

---




Translucent Turquoise Mussini Oil 35ml




$18.20

---




Cobalt Turquoise Mussini Oil 35ml




$52.30

---




Chrome Green Tone Deep Mussini Oil 35ml




$18.20

---




Turmaline Green Mussini Oil 35ml




$30.60

---




Chromium Oxide Green Brilliant Mussini Oil 35ml




$23.45

---




Helio Green Deep Mussini Oil 35ml




$18.20

---




Helio Green Light Mussini Oil 35ml




$18.20

---




Oriental Green Mussini Oil 35ml




$52.30

---




Chromium Oxide Green Deep Mussini Oil 35ml




$18.20

---




Viridian Mussini Oil 35ml




$18.20

---




Cobalt Green Opaque Mussini Oil 35ml




$52.30

---




Sap Green Mussini Oil 35ml & 150ml

$0

---




Chrome Green Tone Light Mussini Oil 35ml




$18.20

---




Yellowish Green Mussini Oil 35ml




$14.85

---




Translucent Golden Green Mussini Oil 35ml & 150ml

$0

---




Verona Green Earth Mussini Oil 35ml




$14.85

---




Bohemian Green Earth Mussini Oil 35ml & 150ml

$0

---




Naples Yellow Light Mussini Oil 35ml




$23.45

---




Flesh Tint Mussini Oil 35ml & 150ml

$0

---




Naples Yellow Deep Mussini Oil 35ml




$23.45

---




Attish Light Ochre Mussini Oil 35ml & 150ml




$0

---




Raw Sienna Mussini Oil 35ml & 150ml




$0

---




Yellow Sienna Mussini Oil 35ml




$14.85

---




Translucent Yellow Oxide Mussini Oil 35ml




$23.45

---




Deep Ochre Mussini Oil 35ml




$14.85

---




Translucent Orange Oxide Mussini Oil 35ml




$23.45

---




Natural Burnt Sienna Mussini Oil 35ml & 150ml




$0

---




English Red Mussini Oil 35ml




$14.85

---




Pozzuoli Earth Mussini Oil 35ml




$14.85

---




Pompeiian Red Mussini Oil 35ml




$14.85

---




Caput Mortuum Mussini Oil 35ml




$14.85

---




Mineral Brown Mussini Oil 35ml




$23.45

---




Brown Pink Mussini Oil 35ml




$23.45

---




Translucent Brown Oxide Mussini Oil 35ml




$14.85

---




Raw Umber Light Mussini Oil 35ml




$14.85

---




Natural Raw Umber Mussini Oil 35ml




$14.85

---




Natural Burnt Umber Mussini Oil 35ml & 150ml




$0

---




Vandyke Brown Mussini Oil 35ml & 150ml




$0

---




Asphaltum Black Translucent Mussini Oil 35 & 150ml

Highly stable pigments are used to imitate the asphalt colour which was widespread in the 19th century, a translucent, deep brown of low stability which was able to show through the colour layers.

$0

---




Brownish Grey 1 Mussini Oil 35ml & 150ml

Opaque grey with delicate red tinge, without black pigments.

$0

---




Brownish Grey 2 Mussini Oil 35ml & 150ml

Semi-opaque grey with green tinge, without black pigment.

$0

---




Bluish Grey 1 Mussini Oil 35ml &150ml

Light stone grey, a "neutral" grey for the beholder.

$0

---




Bluish Grey 2 Mussini Oil 35ml & 150ml

Opaque bluish grey, similar to slate grey.

$0

---




Shade Grey Mussini Oil 35ml

Greenish, semi-transparent grey. Specially developed to produce the Italian masters' famous "sfumato" â€" a fine grey mist which was applied to portraits, for example, in order to lend them a softer look.

$0

---




Dove Grey Mussini Oil 35ml

Pleasant, warm dark grey with a "hint" of violet.

$18.20

---




Lamp Black Mussini Oil 35ml




Particularly fine gas black with maximum depth of colour. This provides for high intensity and tinting power.

$14.85

---




Schmincke Payne's Grey Mussini Oil 35ml & 150ml

Traditional Schmincke grey colour. Very similar to a dark neutral grey.

$0

---




Ivory Black Mussini Oil 35ml & 150ml




Traditional deep black, opaque and lightfast. Formerly obtained from charred ivory pieces, now produced via the dry distillation of degreased bones.

$0

---




Mineral Black Mussini Oil 35ml

"Cool", inorganic black with a gentle tinge of charcoal. Produces a blue-tinged grey when mixed with white.

$14.85

---




Atrament Black Mussini Oil 35ml

Modern organic black pigment. Very deep in full tone, close to a Russian green in glazes. Produces green-tinged grey tones when mixed with white. Atrament was the name for a very cold black in Roman times.

$18.20

---




Royal Blue Deep Mussini Oil 35ml & 150ml

$0

---