Winsor & Newton Oils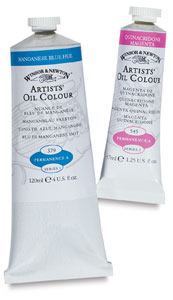 Unmatched for purity, quality, and permanence, Winsor & Newton oils use only the finest pigments. Maximum quality control throughout all stages of manufacture plus the selection of the most suitable drying oils and pigment dispersion method ensure that each color's properties are preserved.
Because each color contains the maximum pigment consistent with good handling qualities, it achieves the optimum tinting strength when reduced with white.
Artists' Oil Colours remain soft and wet for several days, allowing rework. All colors dry to the touch in 2–12 days.
Winsor & Newton has developed permanent alternatives for the less durable traditional colors, without compromising the handling properties of oil colors. Of the 120 colors in the range, 119 are now classified as "permanent for artists' use," which aids the longevity of paintings.
Alizarin Crimson W&N Artists Oils

$13.10

---




Bismuth Yellow W&N Artists Oils 37ml

$39.10

---




Blue Black W&N Artists Oils

$13.10

---




Bronze W&N Artists Oils

$18.80

---




Brown Madder W&N Artists Oils

$13.10

---




Brown Ochre W&N Artists Oils

$13.10

---




Burnt Sienna W&N Artists Oils

$13.10

---




Burnt Umber W&N Artists Oils

$13.10

---




Cadmium Green Pale W&N Artists Oils

$39.10

---




Cadmium Lemon W&N Artists Oils

$39.10

---




Cadmium Orange W&N Artists Oils

$39.10

---




Cadmium Red Deep W&N Artists Oils

$39.10

---




Cadmium Red W&N Artists Oils

$39.10

---




Cadmium Scarlet W&N Artists Oils

$39.10

---




Cadmium Yellow Deep W&N Artists Oils

$39.10

---




Cadmium Yellow Pale W&N Artists Oils

$39.10

---




Cadmium Yellow W&N Artists Oils

$39.10

---




Cerulean Blue W&N Artists Oils

$39.10

---




Chrome Green Deep W&N Artists Oils

$13.10

---




Chrome Yellow Hue W&N Artists Oils

$13.10

---




Cobalt Blue Deep W&N Artists Oils

$60.00

---




Cobalt Blue W&N Artists Oils

$39.10

---




Cobalt Chromite Green W&N Artists Oils

$39.10

---




Cobalt Green W&N Artists Oils

$60.00

---




Cobalt Turquoise Light W&N Artists Oils

$39.10

---




Cobalt Turquoise W&N Artists Oils

$60.00

---




Cobalt Violet W&N Artists Oils

$60.00

---




Copper W&N Artists Oils

$18.80

---




Cremnitz White W&N Artists Oils

$13.10

---




Davys Grey W&N Artists Oils

$13.10

---




Flake White hue W&N Artists Oils

$13.10

---




Flake White no.1 W&N Artists Oils

$13.10

---




Flesh Tint W&N Artists Oils

$18.80

---




Foundation White W&N Artists Oils

$13.10

---




French Ultramarine W&N Artists Oils

$18.80

---




Gold Ochre W&N Artists Oils

$13.10

---




Gold W&N Artists Oils

$18.80

---




Green Gold W&N Artists Oils

$18.80

---




Indanthrene Blue W&N Artists Oils

$39.10

---




Indian Red W&N Artists Oils

$18.80

---




Indian Yellow Deep W&N Artists Oils

$18.80

---




Indian Yellow W&N Artists Oils

$18.80

---




Indigo W&N Artists Oils

$18.80

---




Iridescent White W&N Artists Oils

$13.10

---




Ivory Black W&N Artists Oils

$13.10

---




Jaune Brilliant W&N Artists Oils

$13.10

---




Lamp Black W&N Artists Oils

$13.10

---




Lemon Yellow Hue W&N Artists Oils

$39.10

---




Light Red W&N Artists Oils

$13.10

---




Magenta W&N Artists Oils

$18.80

---




Manganese Blue W&N Artists Oils

$13.10

---




Mars Black W&N Artists Oils

$18.80

---




Mars Violet Deep W&N Artists Oils

$18.80

---




Mauve Blue Shade W&N Artists Oils

$13.10

---




Naples Yellow Deep W&N Artists Oils

$18.80

---




Naples Yellow Light W&N Artists Oils

$13.10

---




Naples Yellow W&N Artists Oils

$13.10

---




Olive Green W&N Artists Oils

$18.80

---




Oxide of Chromium W&N Artists Oils

$39.10

---




Paynes Grey W&N Artists Oils

$13.10

---




Permanent Aliz Crimson W&N Artists Oils

$39.10

---




Permanent Carmine W&N Artists Oils

$18.80

---




Permanent Green Deep W&N Artists Oils

$18.80

---




Permanent Green Light W&N Artists Oils

$18.80

---




Permanent Green W&N Artists Oils

$18.80

---




Permanent Magenta W&N Artists Oils

$18.80

---




Permanent Mauve W&N Artists Oils

$39.10

---




Permanent Rose W&N Artists Oils

$18.80

---




Perylene Black W&N Artists Oils

$13.10

---




Pewter W&N Artists Oils

$18.80

---




Phtalo Turquoise W&N Artists Oils

$13.10

---




Prussian Blue W&N Artists Oils

$13.10

---




Prussian Green W&N Artists Oils

$18.80

---




Purple Lake W&N Artists Oils

$13.10

---




Purple Madder Alizarin W&N Artists Oils

$18.80

---




Quinacridone Magenta W&N Artists Oils

$18.80

---




Quinacridone Red W&N Artists Oils

$39.10

---




Raw Sienna W&N Artists Oils

$13.10

---




Raw Umber Green Shade W&N Artists Oils

$13.10

---




Raw Umber W&N Artists Oils

$13.10

---




Renaissance Gold W&N Artists Oils

$18.80

---




Rose Dore W&N Artists Oils

$60.00

---




Rose Madder Genuine W&N Artists Oils

$60.00

---




Sap Green W&N Artists Oils

$18.80

---




Scarlet Lake W&N Artists Oils

$18.80

---




Silver W&N Artists Oils

$18.80

---




Terra Rosa W&N Artists Oils

$13.10

---




Terra Verte W&N Artists Oils

$13.10

---




Trans Gold Ochre W&N Artists Oils

$18.80

---




Transparent Brown Oxide W&N Artists Oils

$13.10

---




Transparent Maroon W&N Artists Oils

$18.80

---




Transparent Red Ochre W&N Artists Oils

$13.10

---




Trans Yellow W&N Artists Oils

$39.10

---




Ultramarine Green Shade W&N Artists Oils

$13.10

---




Ultramarine Violet W&N Artists Oils

$18.80

---




Van Dyke Brown W&N Artists Oils

$13.10

---




Venetian Red W&N Artists Oils

$13.10

---




Viridian W&N Artists Oils

$39.10

---




Winsor Blue Green Shade W&N Artists Oils

$18.80

---




Winsor Blue Red Shade W&N Artists Oils

$18.80

---




Winsor Emerald W&N Artists Oils

$18.80

---




Winsor Green W&N Artists Oils

$18.80

---




Winsor Green Yellow Shade W&N Artists Oils

$18.80

---




Winsor Lemon W&N Artists Oils

$18.80

---




Winsor Red Deep W&N Artists Oils

$18.80

---




Winsor Red W&N Artists Oils

$18.80

---




Winsor Violet Dioxazine W&N Artists Oils

$18.80

---




Winsor Yellow Deep W&N Artists Oils

$18.80

---




Winsor Yellow W&N Artists Oils

$18.80

---




Yellow Ochre Light W&N Artists Oils

$13.10

---




Yellow Ochre Pale W&N Artists Oils

$13.10

---




Yellow Ochre W&N Artists Oils

$13.10

---




Zinc White W&N Artists Oils

$13.10

---